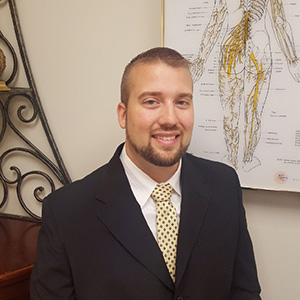 Dr. Brandon Lehr
First Experience
While pursuing his undergraduate education, a lower back injury from playing sand volleyball led Dr. Lehr to pursue chiropractic care. His lower back pain eventually turned into severe migraines while sitting in class and were greatly affecting his ability to focus. His stubborn demeanor let the issue linger for more than 3 weeks before having his first chiropractic adjustment. He was immediately hooked on the idea of natural healing through spinal care! That chiropractic physician eventually became a mentor to Dr. Lehr. He identified his strengths and began to push him to pursue a chiropractic education.
CONTACT US

An Enlightening Education
Dr. Lehr attended Logan College of Chiropractic, where he developed a well-rounded education and became proficient in several adjusting techniques such as Diversified, Thompson, and Cox-Flexion technique. He also became well-versed in the soft tissue techniques of IASTM, NIMMO, Kinesiotape, and Cold laser therapy. Additionally, Dr. Lehr is a certified acupuncturist. He originally found passion in wanting to help with the cessation of addictions such as alcoholism, smoking, weight gain, and IV drug use. He has since also developed techniques that aid in sinus-related disorders, pregnancy, and sports-related injuries.
Acupuncture is often a misunderstood form of alternative therapy that enhances the body's amazing healing potential and tells it where it focus its efforts!
Being in a multidisciplinary practice, it has become convenient to co-manage chronic and acute conditions with having some many professionals under one roof. It allows Health Quest physicians to give a proper diagnosis, treat the condition efficiently, and effectively rehabilitate patients back to their normal lives. That is precisely what drives Dr. Lehr. The ability to get his patients back to meeting their various health goals and doing what they love.
Visit our health center and benefit from our many practitioners' years of experience. Schedule your time today! We look forward to meeting you.
---
Dr. Brandon Lehr | (573) 635-9655